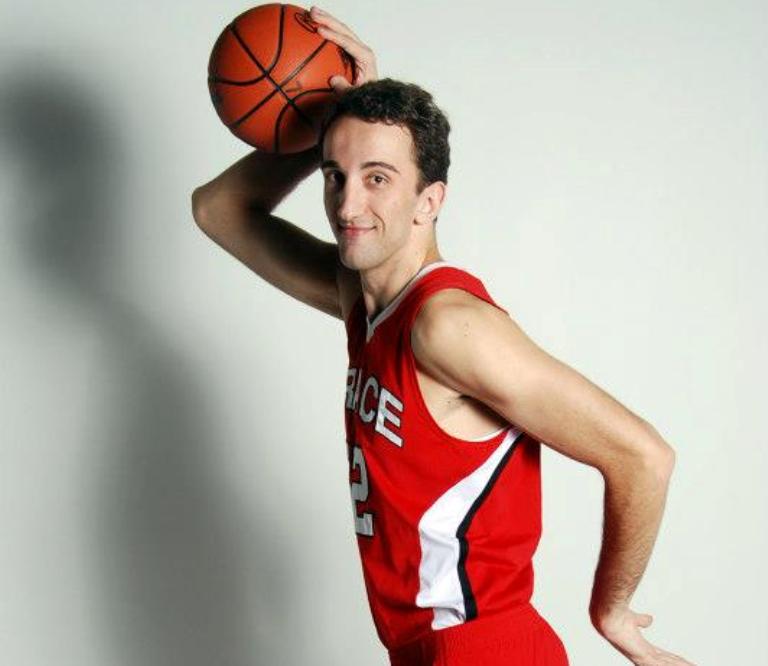 Being tall and loving basketball: Adrian Makolli heads from Germany to the US to study and play
By: Albina Makolli January 16, 2013
"Most of the time I consider myself German, since that's where I grew up and where I've got most of my friends, but deep in my heart I know that I am Albanian. I love my ancestors and our history."  Adrian Makolli, a student and an athlete at Grace College, studies International Business Administration and plays basketball for his college. 
American people make dreams come true: how Adrian came to reach his goal to play basketball
Adrian tells how he ended up playing basketball for Grace College in Indiana, USA. He says: "I came to the US as an exchange student, only for one year during my junior year at Riley High School in South Bend, Indiana, USA. As I was finishing that year, Coach Johnson [basketball coach at Riley High School] asked me if I wanted to come back to the US.  I did not contemplate. I just said "YES! So, coach Johnson called his best friend, Rudy Glingle, and asked him if he was interested in recruiting me to play college basketball. Rudy then thought of his friend Jim Kessler, or as we call him Coach K, at Grace College Lancers Basketball. Coach K was interested, and came all way to Riley High School together with his All American player Eric Gaff". Coach K watched me do drills, and play some basketball. First, he was not sure whether he should take me into his team, but he saw the potential in me ,and decided to go for it."
However, before Adrian could start at Grace College, he needed to finish his last year of high school, preferably somewhere close to Grace College. It was difficult for Coach K to make the decision for Adrian. Once he did, he worked at making it possible that he finds a new school, family, and get ready for College. As Coach K was consulting with friends about Adrian's issue, one of his friends, a host father to be, Scott Silveus, offered to take Adrian into his family. He introduced Adrian to the Silveus family and offered to try a night stay at their place. Adrian continues: "I spent a night at the Silveus' house, just to see if we would get along. I liked it and I wanted to come back and stay with them. They were very loving and caring. Today, they are like my parents, trying to make sure I feel at home and succeed at work or on the court. I feel with them like home. Their kids are like three younger siblings to me."
His host mother Cindy Silveus remembers: "The first time I met Adrian was when he stayed with us for a night. We called his parents in Germany so we could get to know each other a little bit, and to make sure they agree with him staying at our house. Scott and the boys had already met him before at Grace College. They came back home and were all excited about Adrian staying with us. What was particularly important to me was that Adrian connected with my little daughter Maddie, who was only 4 years old at that time. To me the most important thing is to have someone I can trust being around Maddie. But that was not a problem at all. They get along so well." – she says with a smile on her face. She continues: "What was interesting about Adrian staying with us is that after he went off to College, we received an offer to take in another exchange student but I said 'NO!' Our investment in Adrian was more than just staying with us for one year. We decided to continue to support him throughout his college career. He still comes to our house when he's off college and we see him as one of our kids now". Adrian joined the Silveus family for one year, while finishing his last year of high school at Lakeland Christian Academy nearby.
Maturing as a person and a player: playing basketball at Grace College
In November 2009 during his last year at Lakeland Christian Academy, Adrian signed the contract to play for Grace College and study there. He started his Freshman year  in 2010 to study International Business Administration. In summer 2012, he entered his Junior year and started playing basketball together with one of his younger host brothers Joshua Silveus, who just started his Freshman year at Grace College. The Grace College Lancers play in the NAIA Division 2. Coach K remains involved and guides his players on the court and outside it. Adrian says:  "Coach K is a very good role model. He is like a father to us. We can talk to him about everything. Practicing is hard and he teaches us a lot of discipline but he is also very funny and makes our practices very entertaining." Adrian pauses for a bit and then says, "He is always there for us. Coach K sacrifices a lot for the team, he wants us to reach our full potential".
The academic achievements of his players is Coach K's priority. "He checks on our grades and makes sure that we don't fall behind'." Adrian says that his team mates care a lot about each other. "We have a great unity within our team. We make sure that everyone is on the same page. We push each other at practice and make sure that we do things right." Coach K calls Adrian the "Long Shadow", because he does indeed cast a shadow of influence in Winona Lake all the way from Germany. "From the fisrt time I met him I realized how his gentle and gracious spirit surrounded his seven foot towering frame. He is a first class young man who represents his family and country very, very well.  While some are intimidated by his size, his genuine interest in people and his courteous willing spirit to help others is his distinguishing quality that attracted him to others". Coach K further tells us that "around the basket on the basketball court, every player must keep track of where he is because he will send their shot into the bleachers with his shot blocking ability at the defensive end and he is always ready to "bury" a dunk with the greatest of ease and authority at the offensive …Once again his shadow is evident around campus as he is one of the most recognized students and he can be observed greeting countless students with his friendly handshake at every meeting and parting. The big 'A', 'Long Shadow', or just Adrian is special to our campus".
His team mate Tannan Peters says that "Adrian is someone who remembers where he comes from. He is humbled by his roots, and is proud to speak about his heritage, sharing it with others when the opportunity presents itself. Adrian has certainly matured over the past three years at Grace, the Lord has changed him and given him something to believe in through the gospel". Greg Miller, who just recently received two Player of the Week awards from Crossroads League, says that "Adrian is a man of God who truly lives his life the way many Christians try. He has shown great maturity growing as a man and growing spiritually.  He will  be a leader wherever he goes and whatever God chooses to do in his life. Adrian has also shown his work ethic in the game of basketball. He has learned a lot as well as improved his skills. He can become a great basketball player and shows a lot of promise on and off the court".
When asked about the reason why Adrian plays basketball, Adrian replied that  when he was 12, he realized that his height was above average, so he tried to play basketball and that's how he had come to love it. Now he is 7 feet tall. He says: "I think that, in the USA I can make the most out of my talent and passion for basketball."
Between his roots, German life and American college experience
When asked about his identity, Adrian responded: "Most of the time I consider myself German, since that's where I grew up and where I've got most of my friends, but deep in my heart I know that I am Albanian. I love my ancestors and our history." Adrian is interested in history and has read a lot about Albanian history. Once a year he tries to go back to Kosovo to visit his relatives. He especially misses his grandparents. He says: "Actually that's the best time of the year". Adrian's parents are currently living in Germany but he expects them to go back to Kosovo."I hope I'll be able to financially support my parents and my extended family in Kosovo. I can't really imagine going back to Kosovo and stay there for good, but I'll keep visiting my family." At the end of his interview Adrian adds: "I've been blessed with so many opportunities throughout my life. One day I'd like to provide others with the same opportunities".