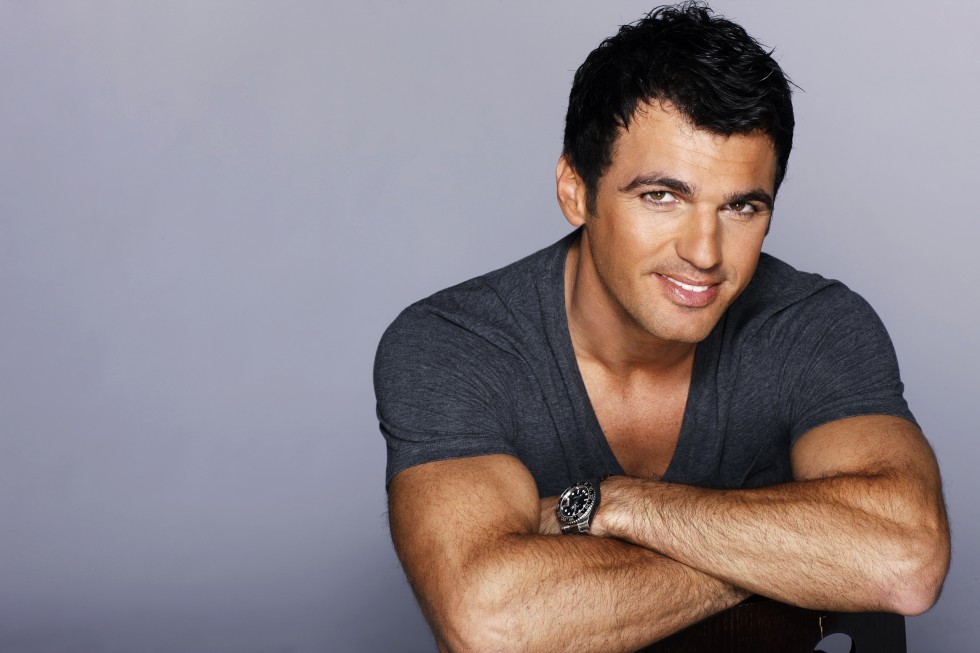 Article: "Steppin' Out with Tony Dovolani"
By: Kosovo Diaspora October 1, 2012
He spends a lot of his time in Hollywood—in rehearsals, costume fittings, television appearances, choreography sessions, performances and training practices—but the Dancing With the Stars professional dancer calls Stamford his home
As soon as Tony Dovolani arrives at Stamford's Parkway Diner, the lunch crowd begins to eat him up like the blue-plate special. A fan checks her false eyelashes and asks the Dancing with the Stars celebrity to pose for a picture. A group of middle-aged men discreetly text their wives. One beckons Tony to their booth with a special request: "She's a huge fan," he says about his wife as he hands Tony his BlackBerry and asks him to say hi.
The ballroom star has just gotten off a plane. He hasn't seen his wife and three adorable kids in days, and he's racked up enough frequent-flier miles in the past year to make him a first-class grouch. Still, his mood in the diner is relaxed and gregarious. "It's me, Tony Dovolani from ABC's Dancing with the Stars," he says into the BlackBerry. "And I am here at the diner in Stamford where I used to work."
This casual eatery on High Ridge Road, once called the Country Diner, is the place where Tony likes to say he took his "first steps." It was here that the teenage Tony, a refugee from the war in Kosovo, learned English waiting tables. It is the place where the proud ethnic Albanian figured out a distinctly American truism: "If you make people happy, you get great tips and make a lot more money, which I did."
And Stamford is where he got his first taste of the salsa, the rumba and the cha-cha. Those sexy, powerful Latin dances would take Tony to the highest levels in international ballroom competition, making him a two-time world champion in American Rhythm style.
That title—as well as his dark good looks and abundant charm—would earn him his first turn as a professional partner on ABC's popular reality ballroom competition. There, his nine-season quest (so far) for the tacky but coveted mirror-ball trophy would make him as much of a star as some of the major and minor celebrities he waltzed into the studio ballroom on our TV screens. And it all began in Stamford, says Tony, of his improbable rise from diner dishwasher to ballroom's leading man.
Tony, who lived in Stamford for sixteen years after his family's 1989 escape from Kosovo, has a story that is captivating for its Hollywood-movie plot lines. And we haven't even covered the part where he proposed to his wife, Lina, on their first date, taught actor Richard Gere how to waltz and played ballroom bad boy in the 2004 movie Shall We Dance?
"If someone told you his story—that he escaped to this country when he was just fifteen and became a star—people might think you were making it up," says John DePalma, one of Tony's first ballroom instructors in Stamford. "It is such an American dream story it almost seems impossible. But it's all true. And if you knew Tony, you would understand how he made it all possible. He is that determined a guy."
Coming to America
Raised in Kosovo's capital of Pristina, Tony (born Ditron) was the middle child in a middle-class family of ethnic Albanian Muslims. He led a life of privilege until his homeland was fractured by political and social conflict in the 1980s. His father Munir's elite status as chief executive at a computer company made the Dovolanis targets for persecution, arrest, even murder. "We had to leave," Tony says. "We were very much in danger and we had no choice."
Granted political asylum, Tony, his father, younger brother Fisnik and older sister Laura came straight to Stamford. (Tony's parents are divorced and his mother remains in Kosovo.) Here the family had the support of Tony's uncles, established stonemasons, as well as the city's tight-knit Albanian American community. "Christian, Muslim, it doesn't matter. If you are Albanian, they are there for you."
Despite the anchor of community, the upheaval was still enormous. "My dad went from being the chief executive to the doorman at the Regency Towers," says Tony, who found work as a dishwasher and put his Kosovo dreams of being an architect on hold. In Pristina, math and science were his strongest subjects. Here, he tried Stamford High School but quit after four days. "It was a waste of time for me to learn things I already knew. My family needed the money more, so I walked out and went back to the diner."
Quickly promoted to waiter, the job became his course in all things American. "I knew three words, 'Hi, I'm Tony.'" He messed up orders, bringing out salmon instead of an omelet on his memorable first day. But he always learned from his mistakes and survived by turning his
limitations into entertainment for his customers. "I made fun of myself. If I screwed up, I laughed. If they made fun of me, I didn't mind. I wanted to learn. I am a very firm believer that if you want to be in America, you have to embrace the culture … and I wanted better tips."
Then, one fateful day, a diner cook showed Tony a flier. The former Fred Astaire Dance studio at the Ridgeway Shopping Center was offering a free lesson. Tony, who began studying Albanian dance at age three, worshiped iconic American dancers. "I loved Fred Astaire and Gene Kelly. I loved Michael Jackson. To me, America was musicals and happiness. Seeing Fred Astaire's image on the flier was enough for me to check it out."
On the Dance Floor
"Let's be honest here," remembers John DePalma, who now owns the Metropolitan Dance Center at the Ridgeway and has been master of ceremonies on the PBS series Championship Ballroom Dancing. "Tony had more on his agenda than dance lessons. He also wanted to meet girls. Tony came to class wearing piles of gold chains, hip-hop clothes and spoke with a crude accent that made him sound like he was taking English classes in the Bronx."
But when he danced, those rough edges were smoothed away. "We were all like, 'Wow,'" recalls John. "Tony had no inhibitions when he moved. He just got it."
John says his teenage student was remarkable for his equal commitment to ballroom dancing and family. "Every time it was time for Tony to sign up for a new series of lessons, he would say, 'First, let me go home and talk to my father.' This was a family where everyone had to turn over their paycheck. But every time, Tony would come back and say, 'My father would like me to continue.'"
Within a year, with his sights already set on professional dancing, Tony asked John about teaching, a bold request considering his lack of experience. "But there wasn't a lot to discuss," says John. "He was already better than most of the professionals on our staff."
Teaching would pay for Tony's lessons and his first professional coach, Marianne Nicole, John's wife. For nine years, while Tony taught and prepared for competition, he stayed at the diner for the tips, which grew as he entertained his customers, dancing his way to tables with plates lined up his arms.
In the meantime Tony began competing, first in American Smooth. Then he switched to Latin-themed American Rhythm when he partnered with Elena Grinenko. They won their world titles —a rarity for American dancers—in 2005 and 2006. "It was my proudest moment," says Tony, who received the call to join the Dancing with the Stars cast shortly after the first title. "I felt like I was finally giving something back to this country."
Tony's fellow Dancing with the Stars professional Maksim "Maks" Chmerkovskiy says his best friend's success has everything to do with his experience fleeing an oppressive regime. "When you come over here the way he did, dodging bullets, you take nothing for granted," says Maks, who emigrated from Ukraine. "And Tony is an athlete. To get to the top of your game, in any professional sport, you don't go out there thinking, 'Oh I hope I come in second.' You want to win."
Tony reluctantly left Stamford four years ago as his TV career took off. Since the job and his other commitments require so much travel, he wanted his growing family closer to his siblings who now live near Stamford. "I think it kind of amuses the neighbors that one night I'm on T42V, and the next day they see me pulling in the driveway."
Feeling at Home
"When I left Kosovo, Stamford really became my home and I miss it," says Tony. "I like the vibe and the energy. I have my old students. My coaches. A lot of people who are important to me."
High on that list is Charlotte Johnston, a teacher at Turn of River Middle School. Tony calls his former ballroom student "my second mother." She is honorary grandmother, or "TuTu," to his children, and she often drives him back and forth to the airport. They became close after Tony coaxed her into taking a dance lesson with him at Stamford's former Terrace Club, where they both went to dance social ballroom on weekend nights. They ended up touring the United States together as a winning Pro/Am team. "Charlotte taught me English, while I taught her to dance," Tony says.
Charlotte remembers a confident instructor eager to learn the American way. "Sometimes he would be in the studio and say something and immediately know it was wrong or off somehow. He would say, 'Charlotte, what did I say? What did I do?' He would ask me questions and I would explain things to him."
Nothing about Tony's success surprises Charlotte, including his choice to stay close to Stamford. "He is comfortable with a simple, middle-class life. Happy to come home to his family. He doesn't have a need for a lot more," she says.
Tony's marriage to Lina, a doe-eyed fellow Albanian he met on a blind date arranged by his sister, has been a strong foundation as his fame grew, his close friends say. For years Tony was known for his playboy ways on and off the dance floor, but he seems to have settled easily into the role of family man. "I knew the minute I saw her walking across the parking lot that she was my wife," says Tony.
The downside to celebrity is the lack of time Tony can give to his family. When we first met, he had flown home on a red-eye flight after Dancing with the Stars rehearsals. Though exhausted and eager to see his children—Luana, Adrian Ditron and Ariana—he sat down to chat and did not complain. "I wanted this," he says. "All of it. I did it for my family and I embrace it. I don't have a lot of patience for celebrities who complain, who won't sign autographs or do interviews. I don't understand it at all. I am like, 'Excuse me? Didn't you want to be famous?'"
Which explains his latest act. After Tony taught Richard Gere, Jennifer Lopez and Stanley Tucci to dance for their roles in Shall We Dance?, he was cast in the film in the small but memorable part of Slick Willy. He liked the role enough to pursue more film work. Last month he began filming Pumping Up, an Angel Light Pictures production.
Yet Tony has no designs on leaving Dancing with the Stars. "I love the show, and I will come back as long as they will have me," he says.
The guy from the diner still has that mirror-ball trophy to win.
***
This article appeared in the March – April 2010 issue of Stamford Magazine
Source: Beth Cooney. Steppin' Out with Tony Dovolani. Stamford Magazine. March-April, 2010 http://www.stamfordmag.com/s/March-2010/Steppin-039-Out-with-Tony-Dovolani/
This article appeared in the March – April 2010 issue of Stamford Magazine