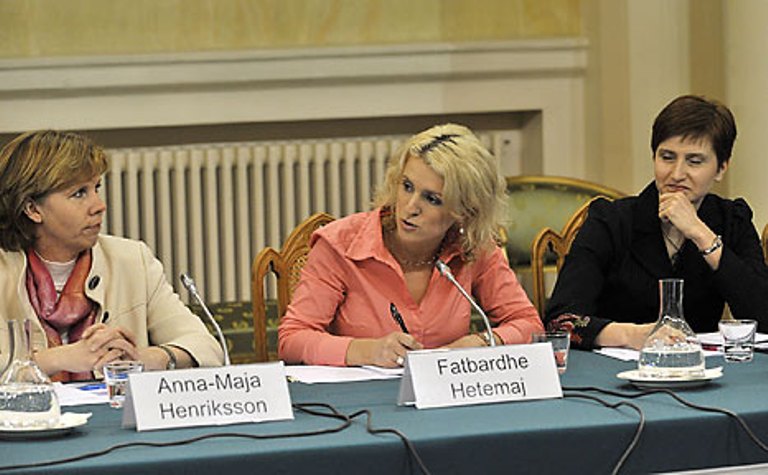 Article: "Refugee Woman of the Year: Fatbardhe Hetemaj from Kosovo"
By: Kosovo Diaspora July 16, 2012
23-year-old Fatbardhe Hetemaj was named 2009 Refugee Woman of the Year by the Finnish Refugee Council. Hetemaj was recognized for her efforts to counteract racism in Finland. In 1992, she fled together with her family from Kosovo and the regime of Slobodan Milosevic. The Finnish Refugee Council was impressed by the way she has proved refugees capable of taking up leading positions in business and society today, not letting prejudices stand in their way.
"Attitudes can change on the individual level and in society through education – as well as through opening our hearts and minds," said Hetemaj after the nomination. Hetemaj herself has fought prejudices by showing her own example in everyday situations, from school to workplace. According to Hetemaj, refugees in Finland have to be more active when searching for employment or education, as they face racism despite having integrated into Finnish society.
The Hetemaj family is a good example of the positive effects of sports and education in helping refugees integrate into a new culture: Fatbardhe Hetemaj's two brothers play soccer in the Finnish national team, and Hetemaj herself has a university degree and currently works for a multinational company.
The Refugee Woman of the Year nomination fuelled up yet again the public debate about refugees and immigrants in Finland. The current economic downturn has given room for more critical voices towards immigration into Finland, and very often refugees are grouped together with other groups of people entering the country. The nomination of Hetemaj was criticized on the online discussion forum of Helsingin Sanomat, a national newspaper.
The main concern of the debaters is why the Finnish tax payers' money should be used for citizens of other countries when, according to one writer, "there are more than enough mouths to be fed in Finland". Others, however, point out that the percentage of refugees among all the people benefiting from the Finnish social support system is in reality very small. The media is also criticized for its way of reporting about refugees: the major media only publishes stories that are deemed "refugee friendly", and the stories are perceived to be far from the reality that Finnish people experience in their everyday lives when encountering refugees. On the other hand, many welcomed Hetemaj's nomination as a positive sign: since the globalised world gives us no choice but to face different cultures and people and learn to live side by side, it is encouraging to hear success stories, like the one of the Hetemaj family.
****
Source: "Refugee Woman of the Year: Fatbardhe Hetemaj from Kosovo." The United Nations Refugee Agency (UNHCR). March 11, 2009. http://www.unhcr.se/en/no_cache/search/artikel//refugee-woman-of-the-year-fatbardhe.html