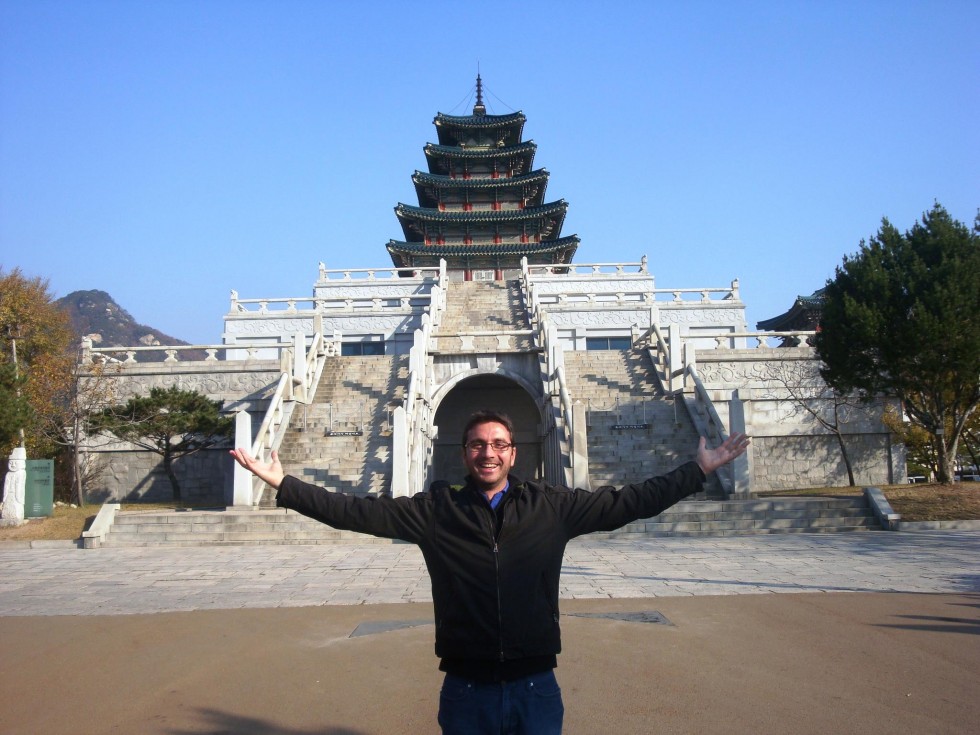 An ordinary Kosovar on somewhat extraordinary voyages!
By: Alban Pruthi November 24, 2012
Before the war in 1999, very few people from Kosovo had the opportunity to travel and meet the world outside of the Balkans. Today, Kosovars not only reach corners of the world, but they also use their experience and skills garnered at home and abroad  to contribute to their area of work. One such Kosovo young professional  is Alban Pruthi, who hails from Gjakova and currently lives and works in Washington D.C., USA.
With a bucket of hard work mixed with enduring drive and ambitions, as well as few spoons of great luck, I've ended up working with a reputable multinational institution, the International Finance Corporation, utilizing the private sector for development goals. In an ocean of well-thought and intended objectives, my role is to help the process of building and or strengthening financial institutions worldwide. In plain words, unleash access to, transparency, soundness and stability of financial sector. And, I'd like to believe prosperity for all. I have only work to blame for taking me to extraordinary voyages around different parts of the world. Of course, the passionate drive for promoting my homeland, culture, people while learning about others is a culprit too.
In generous spirits, I would like to share few personal non-exhausting traveling souvenirs for your inspirational consumption. After all, St. Augustine was awfully right saying "The world is a book and those who do not travel read only one page."
1.    The "Good Bay" of Extreme Contrasts
Landing in Mumbai, India immediately brought close the humble, noble, lifeless, caring face of an Albanian icon, the one and only Mother Teresa. Given that India has not yet recognized Kosova, it helped to employ Loving-Mother-Of-All as a passport to introduce my homeland and its people to my new acquaintances.
I found the "Good Bay" to be a megacity of extreme contrasts lacking a sound middle ground. On one hand full of heavenly and meticulously pristine and aromatized luxurious hotels, shops, restaurants and what not, accessible only to the rich and famous as well as tourists. On the other, heart/eye breaking pockets of slums full of dust, dirt, grayness inhabited by laborious and extra active hardworking people with eyes full of sparkle and life.
An energetic and dynamic city that allowed me to get a sense of how much is "a billion of people." To experience the loud noise it makes, challenges it faces, and extremities it employs to charm and touch an innocent and ordinary Kosovar visitor, who ultimately ends up in a dilemma of choice between disdain and love. A place that truly fed and misused my sixth senses!
 2.    Sweet Seoul, South Korea
Deep down, I've always known I have a bit of an Asian gene in my DNA. This claim gains ground if one considers the mere fact that the Balkans, including Kosova, for centuries have been a very fertile crossroad of various cultures and all you can name it. It did help and filled me with enormous pride to be in a country that has recognized my beloved but work in progress homeland.
After a 14 ½ hours air journey, walking in the hallways of Incheon International Airport, I forgot I was in a transportation facility. I thought I had landed in a mega cultural complex full of awesome activities ranging from live performances of Gangnam style—a Korean song that took the world by thunder— to painting classes and historical enactments of the rich royal past.  It truly felt great being in the prosperous Korea!
Once in Seoul, I found a modern city wrapped in concrete and tall glass edifices often displaying architectural elegance embraced by traditional touches. The rich spicy cuisine and the brown rice green tea opened my mouth and allowed me to share interesting facts about my homeland with street acquaintances who spoke somewhat broken English.  Yet, they possessed the latest tech gadgets.
But, I realized that modernity co-existed peacefully with the old past in the walls within walls of royal palaces with flying eagle roofs, including traditional meticulous neighborhoods with super cute Hanok, which is a term for homes. A once buried river brought to life by a green minded mayor, nourished downtown Seoul and its inhabitants. It gave me hope for the buried river in the centre of Prishtina, the dynamic capital of Kosova.
3.    Tasty 2-cities of Truly Asia Malaysia
Happily escaping the cold weather of Northern Hemisphere, my lungs were greeted by the humid tropical air served freely at Kuala Lumpur, the inviting capital of Malaysia. My eyes cherished the warm welcoming and diverse faces of locals speaking good English. Walking on the land of another country that has recognized Kosova tricked me to forget the work waiting for me and the long journey I had to get there.
While purposefully getting lost in the contemporary architectural and urbanized Kuala Lumpur and in the UNESCO city port of Melaka, I made sure to consume "all-I-could" from the tripartite cultural combo of Malay, Chinese, Indian and some leftovers of colonial Europe. The menu included numerous tropical mosques with lush palm gardens, humming smoky Chinese and Hindu temples bursting in colors and icons— a truly spiritual harmony of coexistence. Something shouting out loud: SAFEGUARD AND CHEERISH DIVERSITY. Something, my homeland would benefit recalling and embracing.
Having walked and walked in exploring these 2 cities, I'd often indulge on a BMW ride— a tasty banana, mango, and watermelon fresh smoothie, which made me and my tummy extra happy. All spicy delicious food aside that challenged my tongue, I surrendered to guava, mangosteen, longan, durian—tropical fruits I had never eaten before.
From my window plane seat ascending to free skies, I made sure to say goodbye to slick omnipotent Petronas towers and other remarkable landmarks of the inspiring Malaysia. Good bye, until next time.
****
Alban Pruthi is a young professional in international development with over 5 years of varied experience in the field of credit reporting and other financial infrastructure cross-cutting themes, resettlement, rehabilitation, elections, media and broadcasting. Alban has a B.A. in Political Science and European Studies from the American University of Bulgaria and an M.A. in International Relations and Economics from School of Advanced International Studies (SAIS) of Johns Hopkins University. He is native in Albanian, fluent in English, has a good working command in Serbo-Croatian and Italian, as well as a rudimentary knowledge of French, German and Bulgarian. He is originally from Gjakova, Kosova but lives and works in Washington DC, USA.