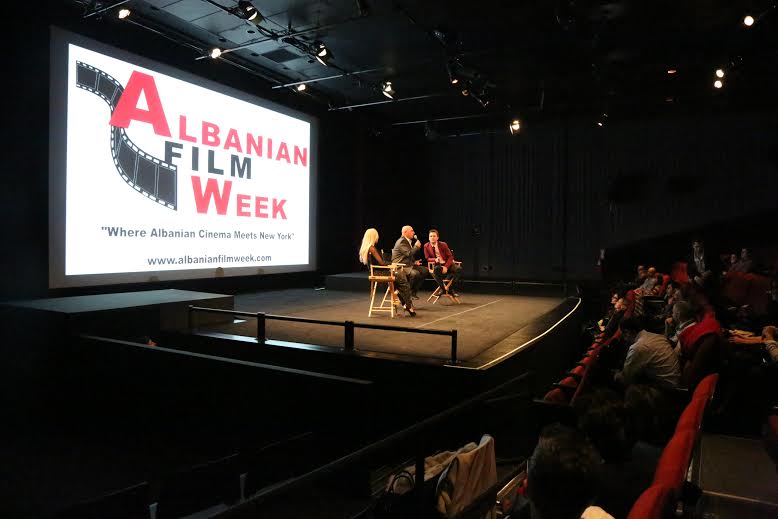 An Insider Perspective of the Albanian Film Week 2013: Theodhora Rexhepi
By: Kosovo Diaspora November 21, 2013
Albanian Film Week (AFW) Marketing Director Theodhora Rexhepi was a vision in green at the opening gala of AFW 2013. Passionate about promoting Albanian art and culture, Theo speaks to Kosovo Diaspora about the evolving film industry, her favorite films, and AFW 2014.
Tell us a little bit about yourself.
Born in Fier, Albania, I moved to Greece when I was 15 years old. I became more involved with activities concerning Albanian when I moved to New York. Soon after, a family tragedy narrowed my focus on children. Not only do many Albanian families have trouble providing for their sick children, but also medical care is scarce and very difficult to access. Thus my goal is to eventually create a foundation to support these families.
How did you get involved with AFW? What are your motivations for being part of this amazing event?
Co-organizer Ariot Myrtaj's (Ari) inspiring passion for cinematography drew me to join the AFW team. I want Albanian culture to be presented through the vivid colors of art. We have a rich artistic world– a treasure– and the United States should be introduced to it. I am very proud of my culture, as I am sure every Albanian is.
Do you consider AFW 2013 a success?
The mission of AFW 2013 is to share Albanian culture and connect people through art. I believe that the festival fully accomplished its goals. Expectations were blown away at opening night. The movies allowed people to further appreciate Albanian cinematography. At the award night, we had many important guests and a full house. I have also received numerous emails from Albanians in Boston, Chicago and Michigan congratulating us and requesting we bring something similar in their cities. Indeed, AFW's success is due to the work of our wonderful team.
AFW 2013 offered a diverse selection of films. What was your favorite film? Why?
The directors have done an amazing job. Each film portrayed a different aspect of Albanian life. I really liked the short movies The Last Confession and the Superintendent. I also liked Agon because I lived in Greece for 5 years and could relate to the story. Angus Deus was about a modern tragedy that deeply touched me. The film showed some very painful times and some members of the audience were very emotional. Lastly, Right to Love portrayed a reality that exists not only in Albanian Culture but also everywhere in the world.
In your opinion, how has the Albanian film industry has evolved?
The Albanian film industry has become more successful and contemporary. Directors have become bolder in their art and in screening real life stories. Director of Agon Robert Budina expresses that directors need more funds and encouragement to produce more movies. Currently, while neighboring countries such as Italy might produce a hundred films annually, the Albanian film industry only produces four. This will take time to develop, but I quote Abraham Lincoln regarding the growth of Albanian Cinematography: "'I am a slow walker, but I never walk back.'" We must charge forward and not walk back.
What will AFW 2014 look like?
 We aim to do better every year. Ari and I are already planning for AFW 2014.  We will have a bigger theater since it was a full house with over 300 attendees at our opening night. We also plan to tell more people about the festival. Lastly, we are eager to see a warm reception from the Albanian Community. While they were cautious about embracing us this year, we strive to have their full support in 2014.