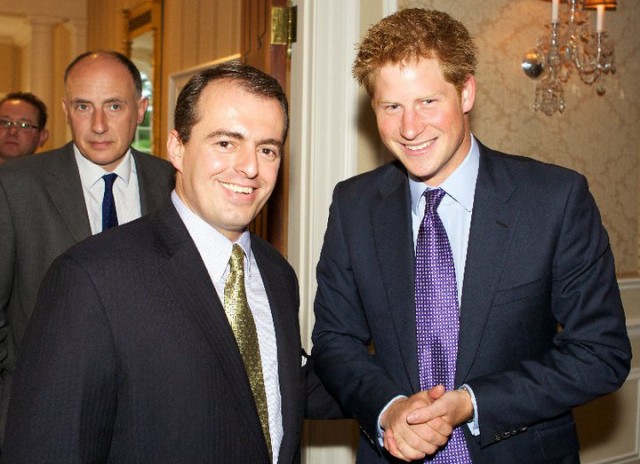 American Albanian Banker and Prince Harry join forces in philanthropy
By: Valon Xoxa May 9, 2014
Mr. Richard Lukaj and Princ Harry join forces in promoting the fight against the spread of HIV/Aids.
Richard Lukaj, a famous investment banker has gathered a number of entrepreneurs in attempt to engage them within the  "Sentebale" foundation. Richard Lukaj, is one of the few businessmen who manages to balance the professional and family life. However fulfilling his success might be, Mr. Lukaj has decided to engage in philanthropic efforts.
A decade ago, Mr. Lukaj started the Lukaj Foundation, alongside other individuals and institutions he has achieved a number of good will projects, the most relevant and note worthy being the creation of the American University of Kosovo, the reconstruction of a number of foster care homes in Albania as well as the reconstruction of a school in Montenegro.
His longtime involvement in philanthropy has brought Mr. Lukaj to eventually join forces with Princ Harry in the "Sentebale" Foundation. "Sentebale" is a foundation initiated by Princ Harry and Princ of Lesotho Mr Seeiso, a movement that seeks to normalize the lives of many African young that are directly or indiscreetly affected by the HIV/AIDS.
While many were preparing for their vacation, Mr. Richard Lukaj and his family were actively engaged in organizing and hosting the event where Princ Harry would take part in. Hundreds of philanthropists and businessmen gathered in response to Mr. Lukaj's invitation in understanding the efforts and workings of "Sentebale". Among the present, Masiela Lusha, a well known Hollywood Albanian American actress, was chosen as one of the three international ambassadors of "Sentebale" Foundation.
At first, it seems a little odd that a well to do Albanian-American family would engage in efforts to stop the spread of HIV/AIDS in Africa, however Mr. Lukaj is very clear. Richard explains how Mother Theresa and princess Diana are still among the most influential people due to their work in philanthropy, he adds how their dedication and passion towards humanity had no boundaries.
The original article was posted at Illyriapress.com Click here to read the original article.