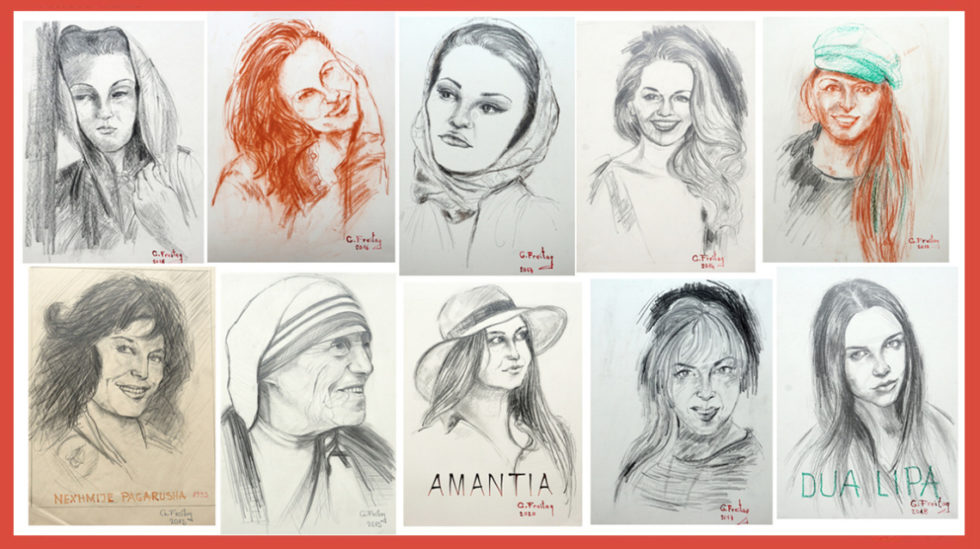 Albanian Woman in the eyes of a painter
By: Kosovo Diaspora July 17, 2020
The history of Albanian women that makes an era, carries undeniable values. With their individual uniqueness they managed not only to change everything in their lives but to bestow art, kindness, peace, humanism by overcoming any insurmountable barriers or obstacles.

Focusing on motivation and encouragement to move forward, these women created a positive symbiosis towards beauty, nobility, tolerance in the face of the difficulties that life offered them. The dream of Mother Teresa, the woman with great strength who managed to be the most beautiful female world, the most solid humanism that enjoyed and filled the hearts of an entire globe. Focusing on the singers who made an era with their voice and their intelligence like the great Nexhmije Pagarusha, Dua Lipa, Rita Ora focusing in particular on the humanism that characterizes these great women.

When we talk about justice, equality and freedom of Albanian women, we take into consideration the great struggle and effort that not only these prestigious women do but also the small steps that women and girls take on every single day. Their efforts to make progress towards an absolute freedom and development of the Albanian society, which will bring fulfillment of a once dreamed path. This is where the renowned European painter Gazmend Freitag found his muse, portraying Albanian women who gave and still give art, culture, humanism, peace and kindness. Through colors and pictures he truly gives the details that make the difference, the feminine fragility that is the most beautiful deity in the lymph of a crowned detail bringing us an affection of female beauty where times make history and a rainbow-colored brush in the eyes of an artist.
Source: Here