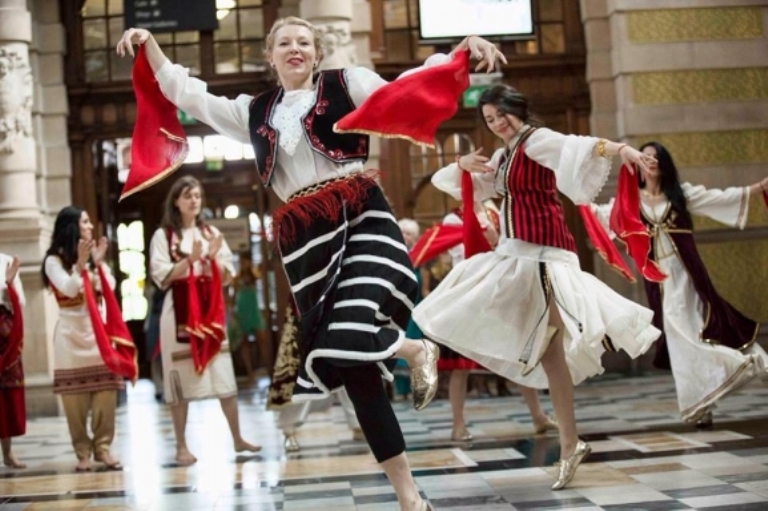 Albanian ethnic identity at UK cultural exhibition
By: Valon Xoxa June 23, 2014
Traditional costumes, tunes from the çifteli, dances and songs were performed at the "1+1 = Love and Life" exhibition at Kelvingrove Art Gallery and Museum in Glasgow, UK. Mrs. Remzije Zeka Sherifi, talked on how this is a great opportunity for UK residents to meet and get to know the Albanian culture and Balkans in general.
"The idea has been around for roughly three years now, it is when professionals from 11 museums : Museum of Prishtina, Novi Sad, Sarajevo, Zenica, Banja Luka, Macedonia, Belgrade, Gjakova, Cetinja, Tirana and the Historical museum of Shkodra; in the spirit of good will and cooperation, decided to work on a grand project. The current Glasgow exhibition is truly unique, it has a selection of original photographs as well as traditional ethnic clothing hand made by the women of "Nënë Tereza" women's group in Glasgow"- explained Mrs. Sherifi.
What made the event so special was the presence of a 45 year old traditional Albanian woman's dress, made with wool and cotton and hand decorated with beads. The visitors had the chance to see traditional clothing from various Ethnic Albanian cities, as well as clothing from around the world. The event was concluded with a fashion show with colorful clothing and Albanian folk tunes.
The original article was posted at Kultplus – Click here to read the original article.