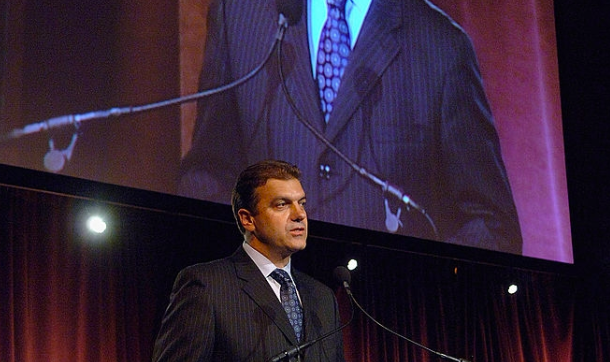 Albanian American Diaspora
By: Kosovo Diaspora January 14, 2019
Author: Avni Mustafaj
The Albanian American Diaspora is uniquely positioned and has the experience to impact US policy on Albanian issues through lobbying, diplomacy and by providing professional expertise.

From the end of WWII until late 1960, very few Albanians emigrated to the US, due to the restrictive and oppressive Communist rule in Albania and the restrictions placed on foreign travel in the former Yugoslavia. In the 1980'- '90s, the end of the dictatorship in Albania and the wars during the breakup of Yugoslavia brought hundreds-of-thousands of ethnic Albanians to the US, both legally and illegally. According to the US census bureau, there are 201,118 Albanian Americans, however this figure only includes those from the Republic of Albania and not ethnic Albanians from other regions of the Balkans, so the actual number is not known.

Within the past decade, thousands of ethnic Albanian students have come to the US to further their education, and some have graduated from the finest Universities, earning Bachelor, Masters, and PhDs. They work, in government, business, medicine, research, education, the arts, etc. and are represented at the World Bank, the UN, US Congress, think tanks, well known financial institutions, law firms, IT companies and more, and they can provide tremendous knowledge for the Kosovo government and the people of Kosovo to help design more effective strategies and to expand their network throughout the region. They offer the unique advantage of having an international perspective and best practices expertise in many fields, combined with local know-how both in the US and in Kosovo.

Albanian Americans are dispersed with significant communities living in the States of New York, New Jersey, Connecticut, Florida, Texas, California, and the greater metropolitan areas of Boston, Chicago and Detroit. This is very important because each community participates in local and national elections which increases support in Washington, DC.

From migrants to lobbyists

The critical role played by the Albanian American Diaspora on the war in Kosovo 1999 fundamentally changed the community from recent immigrants, going about their daily lives, to active participants in the American democracy. We learned how to effectively lobby the US Government by supporting numerous candidates for US President and Congress, both Democrat and Republican, and even met President Clinton in the White House to coordinate activities and to explain what was going on back "home" and the need for intervention in the ethnic cleansing that was taking place. We set up a lobby/advocacy organization and formed the "Albanian Issues Caucus", which are members of Congress who supported and promoted our issues. To sensitize the American public, we initiated media campaigns, organized ongoing demonstrations, held numerous fundraisers with well-known individuals, raised money for refugees. We fought side by side, shed blood, and died with our brethren in Kosovo. It is also important to note that the Albanian Americans formed the Atlantic Battalion and fought in the war.

Additionally, we developed friendships with ambassadors, administration officials, diplomats, scholars, human rights organizations, aid organizations, and with individuals at key organizations and think tanks in Washington D.C. that focus on the Balkans. These "Friends of Albanians" made contributions to favorably shape US policy towards Albanians that are immeasurable and are still remembered and supported today.

Albanian Americans have risen to support Kosovo not just in time of crisis and war but at other times as well.  The US community was instrumental in establishing the rule of law soon after the war, have contributed financially, regardless of religious background, to help build the Church of Mother Theresa in  Prishtina, and have been supporters in the fields of health, education and beyond in Kosovo.

Beyond remittances

The Kosovo government must see the Albanian American Diaspora, indeed the Diaspora at large around the World, beyond just remittances and the amount of money they contribute to the economy during tourist season. Throughout the US, and EU countries, talented and educated ethnic Albanians are passionate for an opportunity to return home to contribute in an impactful way.

While the Albanian American Diaspora was effective during the crisis, we've had less of a role of late and at risk of feeling more and more disconnected.

It is our/my belief that the Kosovar government must develop a policy for actively seeking out and involving this vibrant Diaspora. Since the needs and the capacity to contribute is broad and deep, each Ministry should have a Diaspora department to coordinate activities.  Abroad, Embassies and Consulates should be staffed and provided funds to facilitate connections within the community.

Some could effectively serve in key positions in every Ministry, even as a Minister, but they need to be more than "advisors" that can easily be marginalized. Some can also be a part of strategic advisory councils, whether in Kosovo or abroad. Additionally, there are many educational scholarships and grants for students and professionals requiring that they work in the public or civil society, and engaging them in a meaningful way could be a tremendous benefit to the government and society.  Under many scholarship programs and under the US visa rules students must return to their country of origin for at least two years. These students should be supported by jobs in the public sector.

The Kosovo government, with input from the local and Diaspora private sector, should identify key strategic short-term and long-term national strategies and then identify members of the Diaspora and locally to help develop, support and implement stated goals for long-term sustainability. In certain cases, some individuals or groups can be hired full time to have both a local and international presence or be given a stipend to support specific projects.

A specific strategy must be implemented to appoint more women, to executive positions, not just to meet gender quotas, but as agents of change. Women offer unique talents and skills and often forge closer working relationships, especially with those in the international community.

The Government of Kosovo's ability to integrate the vast wealth, knowledge, talent and network of the Albanian American Diaspora would have a profound impact on its future as a modern state, and growing acceptance into the community of nations.

***
Avni Mustafaj is Former President (1989-1991) and Executive Director (2005-2014) of National Albanian American Council (NAAC); Director of Hope Fellowship, a USAID funded Women's Leadership and Empowerment Program (2005-14); Deputy Director of RIT/AUK (2004-2005); Vice President of Kosova Relief Fund (1998-2002) and Executive Director 1993-96) of Open Society Foundation for Albania (1992-'96); Campaign Manager for Vedat Gashi, Democratic Candidate for NY State Assembly (May 2018-November 2018)