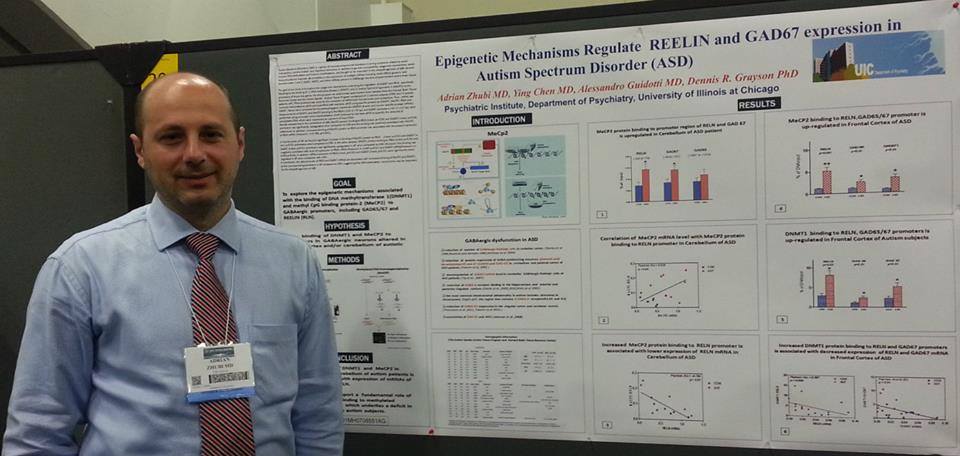 Adrian's Journey from University of Prishtina to the United States
By: Donika Gojani February 19, 2014
Adrian Zhubi's journey began as a graduate of Medical School in the University of Pristina (Kosova). He graduated after the war in Kosovo and became highly interested in psychiatry, especially because he witnessed enormous need for mental health services for the victims of war in Kosovo.
In 2001, he received a scholarship from Dartmouth Medical School -Project Kosova, where he participated in the Clinical Clerkship Program. After graduation, Adrian decided to come to Chicago, IL   at the University of Illinois (UIC) for his Postdoctoral training in Neuroscience. The focus of his research was  epigenetic of brain disorders, which resulted in 9 publications thus far. During this period he has finished all US Medical Licensing Examination (USMLE) required for practicing medicine in USA and started psychiatry residency training at UIC.
Playing in the National Basketball League of Kosovo, and coaching the youth team, Adrian found that he enjoys working with children and came to understand sports as an educational tool. Adrian still returns to the basketball court for fun, plays classical violin, and enjoys blues, jazz, and rock music. In the past 2 years of his residency, Adrian has been working on his Master's thesis project in Neuroscience. The focus of the project is the study of epigenetic mechanisms involved in the pathogenesis of Autism spectrum disorder using post-mortem human brain samples. The results of his research have been presented in American Psychiatric Association meeting, Society for Neuroscience meeting and Albanian-American Medical Society meeting.
He is an active Kosovar community member residing in Chicago, IL where he will continue to practice psychiatry at a prestigious hospital in the Greater Chicago Area.
To learn more about Adrian's publications click on the link below: http://www.ncbi.nlm.nih.gov/pubmed/?term=zhubi+a
The video of Adrian presenting his work at the  Albanian-American Medical Society Meeting in Washington DC in 2013  is available at: