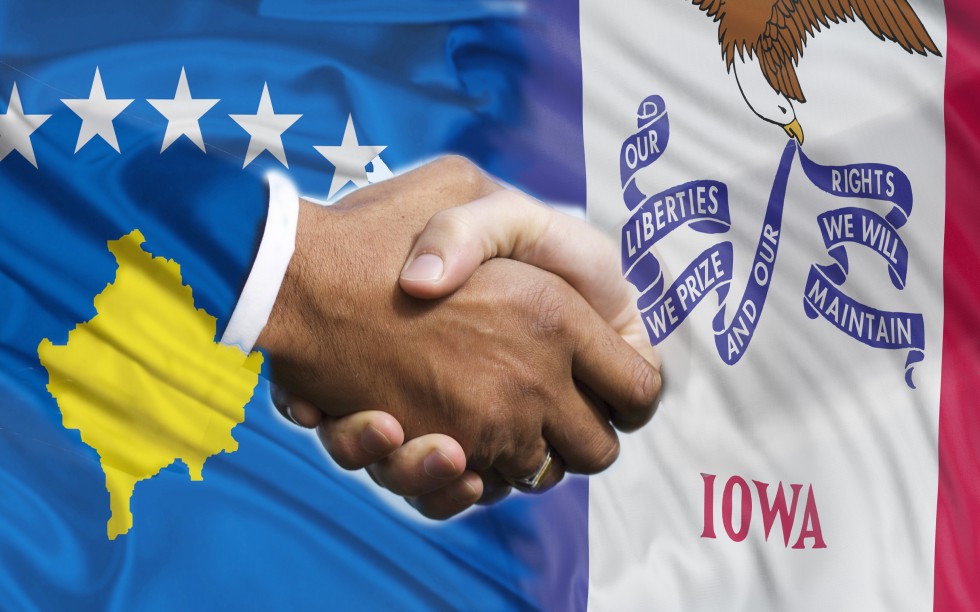 Across the Atlantic: Kosovo and Iowa form a bond
By: Liza Gashi August 10, 2013
Opinion piece by Arielle Brown
Many who grew up in Iowa don't understand why we as a country are interfering in the affairs of countries half way across the world, or how producing relationships with these other countries will affect one's own economy. Many possibly do not even have an understanding of what the other country's main assets are, or why we are so concerned with their well-being. Regardless of one's perspectives on whether or not these concerns are justified, everyone discusses these issues.  These are some of the most fundamental issues, among others, that every person must question when analyzing and contemplating a relationship between countries.  In looking at the sister state partnership that Iowa has formed with Kosovo it is important in understanding many of these aspects.
When discussing the Iowa-Kosovo partnership, the historical importance of Kosovo's declaration of independence was probably one of the biggest steps in establishing relations and a foundation for a future with foreign relations.  The United States had done well in recognizing the independence of Kosovo.  Iowa, becoming a sister state with Kosovo, leads to further opportunities.  The newly formed union between the State of Iowa and the Republic of Kosovo will do a great deal in improving the future of Kosovo economically.  A reason for this union being formed was not only for economic reasons, but also for security reasons.  Iowa has been assisting with peacekeeping missions since 2003, before Kosovo's declaration of independence in 2008.  This relationship will allow for strengthening of young democracies and assisting with securing Kosovo's ideologies that will benefit the nations as a whole.
There is a driving importance to continue the progress of these ongoing foreign relations.  They are imperative to the well-being, not only for us, but also for the well-being of the masses.  In fostering these new relationships it is an asset for the general public to have these international relationships, economically and via a military advantage.  It will assist in economic advantages by fostering a good faith between two countries that wouldn't have necessarily been in place otherwise.  The military advantages that this relationship will produce derive from having easier access to not only Kosovo, but also countries near by.  The best way to try to understand the importance of fostering foreign relations is to first go by the historical relevance of one country's relationship to another.  In this case the historical importance was the assistance that Iowa gave Kosovo.  That allowed for a more permanent relationship to be born out of good faith from past relations.  The future for these two parties may be uncertain, however if the past is a reflection of what is to come I see only good things that should come to pass for Kosovo and Iowa's future partnership.
The benefit of having a relationship as a sister state with Kosovo is to establish broader relations on an international level.  Potential for a better military affiliations as well as trading could be helpful in the overall well being of both parties.  Iowa more specifically will benefit from the trading in agriculture, as well as the opportunities for business and industry.  Within the agricultural sector there will be an emphasis on the best ways to cultivate different fruits using more advanced methods of technology.  This will assist in expanding out market within the United States to a point that would be competitive on a global market.
Arielle Brown is a graduate of Wartburg College, where she studied Political Science.  She is currently a student of University of Northern Iowa at Cedar Falls, Iowa.  She is currently finishing out an internship with the United Nations Advocacy of San Diego, California
The views expressed in this article are the author's and do not necessarily reflect Kosovo Diaspora's editorial policy.