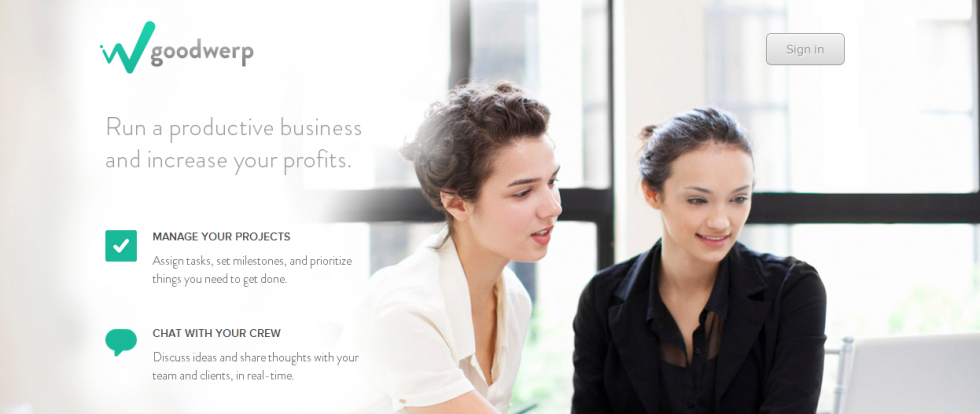 A solution to the business management problems – Goodwerp
By: Albana Rama March 18, 2014
Businesses and organizations around the world can now use Goodwerp to manage their tasks and projects, maintain a positive pipeline, chat with their team in real-time, and invoice their clients without the need to switch between several online applications to control their workflow.
Meet Valon Sopi – the founder and the product architect of Goodwerp. The ambitious Kosovar had the fortune to work with several talented people during his career. He has been building an online application for national clients and worked for the National Basketball Association – Oxfam America. Valon also ran a design firm in New Jersey. Today, he loves spending time with his 2-year old toddler. "My main occupation now is teaching colors, numbers, and shapes to an energetic 2-year old toddler who keeps me in check on a daily basis."
"In 2009, the idea behind Goodwerp started to evolve as an online project management solution that is built specifically for service firms and consultancies around the world" says Valon in an interview with Kosovo Diaspora. "The platform offers all the tools needed for one to run their business. Some of the features are: -teams can manage their projects, invoice their clients and collaborate with one another and also get a feel on the pulse of their business.
This idea evolved as an operating design for a firm which manages several projects. Valon expresses how challenging it can be to manage 30-40 projects and serve demanding clients. The firm used different online applications in such cases but missed a feature that would simplify the process.
Namely, Valon says that "separate apps were in charge of various aspects of the business: management, pipeline, finance, collaboration." He adds that he "could never get a real-time pulse of what was going on in the business and had to manually gather data through an excel data sheet."
Goodwerp became what it is as a solution to this problem and as a response to the need to gather all information needed from the entire company and provide the team with useful information to work on. Goodwerp has already influenced many companies and helped them save time and be more productive. The teams behind Goodwerp are working hard on developing it even further with many innovative ideas. The current team consists of six people – Tyler Wetzel, Erman Belegu, Ideal Bakija, Anbullena Krasniqi, Valmir Hazeri and Valon Sopi himself. They all work together on a daily basis and have different backgrounds, from computer science engineering through design and market analysis.
When asked what makes Goodwerp different from other similar platforms Valon says: "Goodwerp is highly accessible and adaptable to users of various skill levels. It helps clients get rid of up to 3 other applications and get a bird's eye view on their business operations. Its pricing model offers companies scalability based on their needs and usage. The beauty of it all is that a company does not have to install a third-party application and stumble in managing their business. Everything is presented in real-time."