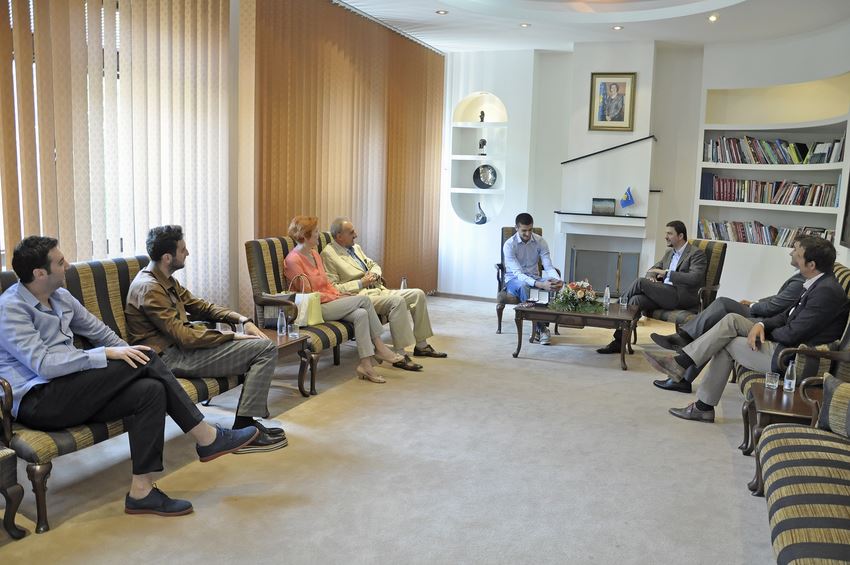 A Reception for the New European Championship U-18 MVP
By: Kosovo Diaspora August 8, 2013
Mr. Memli Krasniqi, the Kosovo Minister of Culture, Youth, and Sports, welcomed Kenan Spahiu to a reception in his honor. The young basketball phenomenon helped Turkey with the U-18 European Championship and clinched the MVP award of the tournament. The Prishtina native began his career in Kosovo but later moved to Turkey. Presently, he is a member of the Tofash squad in Turkey.
Minister Krasniqi congratulated Spahiu and his family on his success, adding that his whole home country of Kosovo shared in his success. The Minister said the Kosovo people were avidly following Spahiu's recent performances, sharing in pride that a youth from Kosovo has met such immense success. The athletic accomplishments of Kosovo's youth population have helped project a positive image of the young country.
The Minister then briefed Spahiu on the work that his department and the entire Kosovo sports community had been doing to develop sports programs and eventual internationalization. He stressed the landmark participation of Kosovar basketball teams in the Balkans League. This inclusion would serve as an additional opportunity to promote Kosovo but, more importantly, it would promote the country's up-and-coming players.
Spahiu said he was honored by the reception held in his honor, and he thanked the entire Kosovo sports community for the support he received during his rise. He spoke of the challenges he faced and the pride he felt when speaking of his country origin. He said he always strived to pave the way for young basketball talents.
The original article was posted at The Ministry of Culture, Youth and Sports webpage. Click here to read the original article.