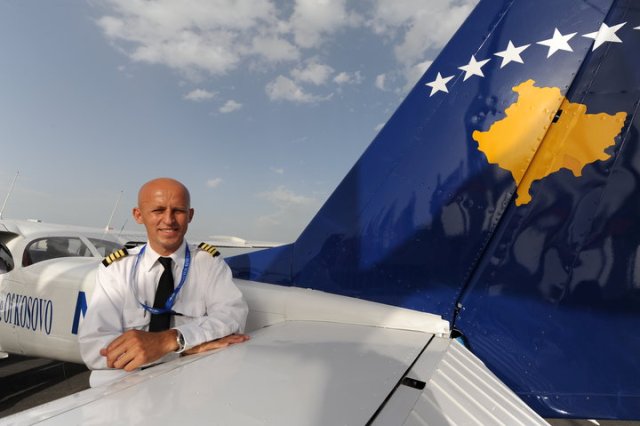 A patriotic duty of pilot from Kosovo – by the Egyptian Gazette
By: Kosovo Diaspora September 5, 2012
A solo flight round the world may be a dream for many people. Perhaps some of them are looking for danger or pleasure, while others want to be famous and others still are simply inquisitive. But for 40-year-old commercial pilot James Berisha from Kosovo, it is a patriotic duty.
Berisha set off nearly four years ago in his single-engine plane from El Paso, Texas to rally support for the, at the time, newly independent Kosovo, which officially became an independent country in February 2008.
Berisha, who visited Egypt last week, has already been to 97 countries, including the whole continent of Africa, as he forges ahead with his mission.
"I would like to thank those countries who have already recognised us, while I will tell the others how important it is for Kosovo to be recognised worldwide," said Berisha, in answering a question about the nature of his mission.
Kosovo's predominantly ethnic Albanian leadership declared independence from Serbia in February 2008, with strong backing from the United States and major EU nations.
But the Serbian government, strongly supported by Russia, insists that Kosovo is still legally bound by the Security Council resolution, and the UN – at Moscow's insistence – still retains overall authority in Kosovo.
[youtube http://www.youtube.com/watch?v=UczXW9l_-Qs?feature=player_embedded&w=640&h=360]
Now, according to Kosovo's Prime Minister Hashim Thaci, Kosovo is a state recognised by nearly half of the UN's 193 members and its territorial integrity "will never be questioned".
However, the Islamic Arab countries of North Africa have yet to recognise Kosovo, something that still astonishes Berisha.
"I really don't know the reason for this. Maybe they think that Tito is still alive or even that Yugoslavia still exists.
"But I think today, with the changes in this region, things will change and many Islamic countries are going to recognise us soon," he added.
Berisha also said that he carried a formal letter to the Egyptian Foreign Minister Kamel Amr, asking him to recognise his country, as Egypt is one of the countries that has yet to recognise the independence of this new state, most of whose citizens are Muslim.
"During my tour, I have been dealing with both public and formal diplomacy, but public diplomacy is far easier, because formal diplomacy is very slow," he commented, stressing that the all people in the countries he has visited are very positive and supportive, while it's been a different story with some governments.
But his difficulties are not limited to convincing people or governments, as he has also to convince his Cessna 172 to keep on flying with him.
This self-financing campaigner bought his kite at his own expense. However, the 1967 model has become cantankerous in its old age, misbehaving on every landing. Berisha's most recent hair-raising episode happened in the Sudan, where he crashed in the desert. Amazingly, he has lived to tell the tale.
On his plane, he has painted the flag of his country and written, 'Please recognise the independence of Kosovo'.
Every crash landing diminishes Berisha's hopes of donating his 'metal bird' to a museum in his country at the end of his tour.
For this self-financing campaigner, who has been without work and therefore without a salary for the past four years, the high cost of fuel and parking in some countries, including Egypt, has been another big hurdle.
When you meet this enthusiastic, man of resolve, who abandoned a good job and comfortable life in the US for this tour, to tell the world about his country, you cannot help but admire him.
Berisha insists on telling everyone about his country and the vital need for it to have relations with every other country.
Thousands of his countrymen, many of them are his own relatives, died in the Balkan wars in the 1990s.
***
More about Berisha's solo flying and solo lobbying around the world.
 ***
Source: Ihab Shaarawy. "A patriotic duty." The Egyptian Gazette. September 4, 2012. http://213.158.162.45/~egyptian/index.php?action=news&id=27563&title=A%20patriotic%20duty