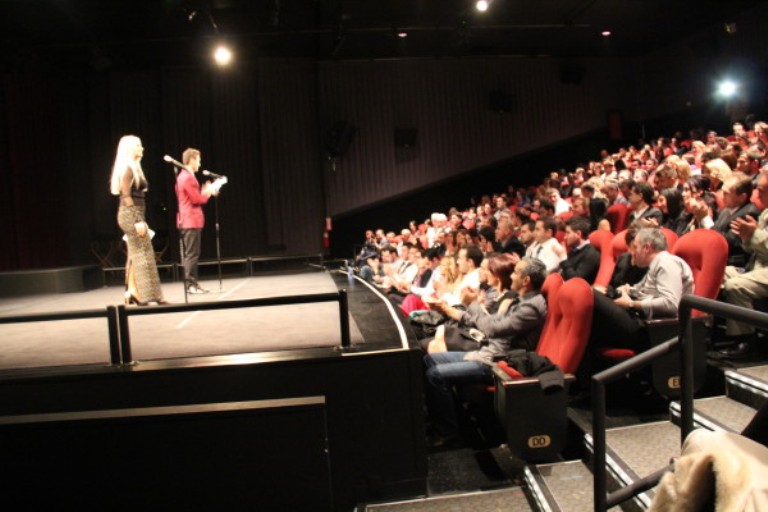 A Night of Laughter and Understanding at Albanian Film Week
By: Kosovo Diaspora November 16, 2013
By: Yekta Karimi
As an Iranian-American, attending the Albanian Film Week was an enriching cultural experience where I was able to get a sound glimpse of the Albanian culture. At the festival's premier, I felt fortunate enough to watch the film Agon and have a conversation with the director, Robert Budina, regarding his thoughts, inspirations, and motivations behind creating the film. On Tuesday, November 12, at the Producer's Club theater, myself and another non-Albanian gal-pal watched four short films: Out of Sight, Amerika, Tie, and The First Tunnel.
Although unfortunate, we had to do a bit of interpretation for Out of Sight because the subtitles didn't translate well through the computer. The cinematography of this film, however, was unique and captivating and despite not understanding the voices of the children, I felt touched because through their words, I understood things like dreams, goals, fears and felt like I was able to put pieces of the puzzle together. From my understanding (which was confirmed by the film's description), the short film's purpose was to capture the thoughts and lives of children and teens throughout Albania in different socio-economic strata. Coming from a developing country myself, I felt that I was able to relate to these children and sometimes even thought I was watching a distant cousin speak.
The other three movies were all over the board in regard to theme and motifs. A mix of comedy, tragedy, immigrant stories, and morbid love story gave for an interesting set of films. Tie was particularly interesting because I think it gave some insight into Albanian humor. Many times in the short 10 minutes, I found myself slightly confused as the crowd roared with laughter. But overall, I was able to understand and enjoy the film and definitely caught myself chuckling many times. I felt a lot of emotions and I think it may have been nice if each night had a theme for the movies. A night of comedy followed by a night of drama, perhaps.
Overall, I have to commend all those involved in founding, developing, organizing, and managing the Albanian Film Week. I was very happy to see such a film festival dedicated to such a strong and culturally rich group of people. Each night that I was in attendance, there was an enthusiastic crowd of viewers and all the films that I was able to watch were modern, yet authentic and made with superb quality. Kudos to the Albanian Film Week crew.

Yekta Karimi is a graduate student at Columbia University's School of International and Public Affairs. She is studying international relations with a focus on finance and economic policy. Yekta obtained her Bachelor's degree in psychology and business and focused her research on microfinance and lending models in the San Joaquin Valley of California. Prior to coming to New York, Yekta was deeply involved with nonprofit work in California working with youth leadership organizations as well as small business development centers.