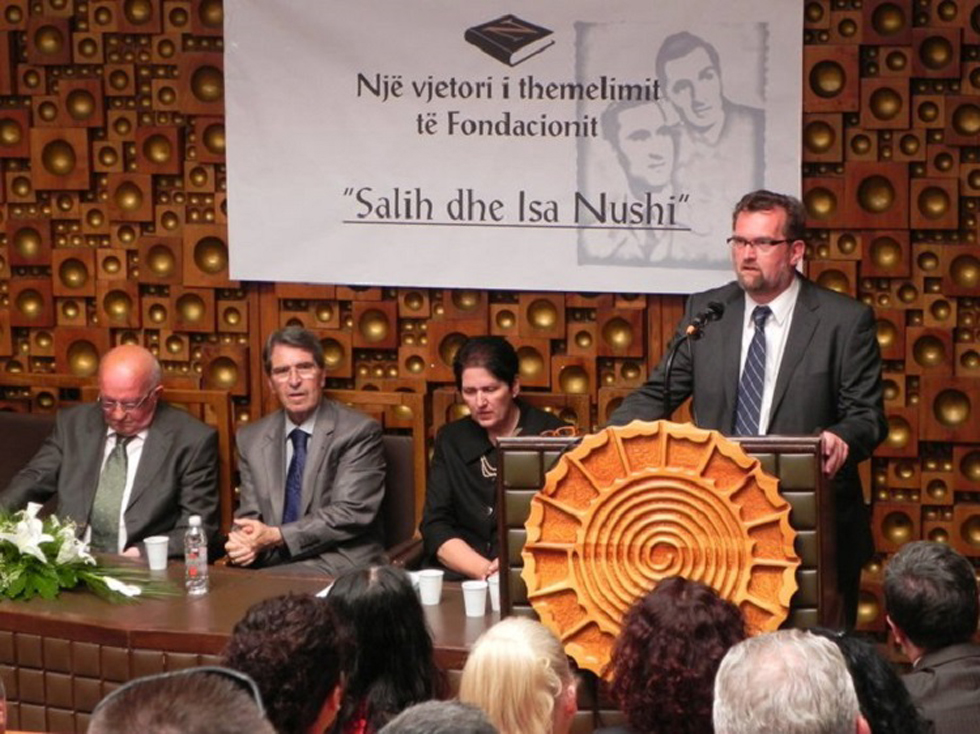 A Mitrovican: an embodiment of Albanian culture in Finland
By: Kosovo Diaspora July 21, 2014
We are social animals. Therefore, it is people who drive us forward. Whether it be through charm, wisdom, pressure or song, it is (always) people who give us the capacity to flow, to enhance.  As a recent development in the progress of human history, people have found the means to group into smaller and smaller pools, until we finally arrive at an ultimate micro-reality termed "family." But let's step back for a moment, to the intermediate step between collective chaos and family. This 'step' we have named "the nation." Our nation-state, our country, our hive. The two are not mutually exclusive. Our family may be our hive, or our hive, our family.
Dr. Edmond Nushi, born in 1958 in Mitrovica, is a family man. His family is his life, and his family takes on many shapes and forms. On the one hand there is the Nushi legacy, which is an achievement all on its own, and of course his Mitrovican heritage, which is a pride like no other, and yet, Dr. Nushi's identity makes room for more. Kosovo, but better yet, Albania, play an establishing role in Edmond Nushi's engaging history of events.
Based in Finland, Dr. Nushi became the first licensed Albanian to have started his work in Finland as a full-fledged doctor. Specializing in pathology, Dr. Nushi took firm steps in establishing himself as an authority on medicine and, to a degree, an embodiment of Albanian culture in Finnish society. This hard-earned position granted Dr. Nushi the ability to reach out and help his family, through various means and contributions.
Currently, his ongoing project allows young Kosovar doctors to travel to Vasaa (where he is located) to participate in medicinal training financed by the Finnish hospital. This project has been successful in granting more than eight Kosovo doctors training in different fields of specialization. Dr. Nushi has also established the first music school of the Diaspora in the native Albanian language, financed by the city of Vasaa. As a musician, he understands the need for music and language as irrefutable tools of cooperation and progress in the Diaspora. Dr. Nushi also presides over the Vasaa-based Albanian society "Nëna Tereza."  He is a consultant for the Pathological department in Prishtina, and other medicinal centers and clinics, where he has held notable lectures and training. Perhaps worth mentioning as well is the fact that Dr. Nushi organized the official dinner event for Martti Ahtisaari (UN Special Envoy for Kosova, and Nobel Peace prize laureate), thanking him for his contribution to the Kosovar cause. Last but not least, Dr. Nushi is a founding board member for the Salih & Isa Nushi Foundation in Kosovo, which grants merit and need-based scholarships to students at the University of Prishtina each year.
Volunteerism also takes on a whole different meaning when observing Edmond Nushi's indefatigable altruism. Relentless in the quest for greater good, Dr. Nushi lays the foundation and model for the Diaspora man, an archetype not observed since the early days of the Albanian intellectual.
A mechanical analogy, though lacking in the necessary depth to fully honor Dr. Nushi's achievements, helps us to understand his role better.  Consider two cars on the road.  The headlights of a car shine from the front, though a second car follows from the back. Using the first car's headlights and navigation, the second is able to traverse the road with ease, accurately observing the turns and twists that lay ahead. However, in a drastic move, if the driver in front were to turn off her lights, she would leave the second driver confused, bewildered and left to improvise as the journey becomes more dangerous for both drivers. A second later the lights come back on, and to the relief of the second driver, the road is once again bathed in photons guiding both cars with more certainty. The first set of lights steady our aim, strengthen our cause, and drive away unnecessary concern. Dr. Nushi is our first set of lights.
In his own words he says,
"I am of the commitment to help all those who are on a straight path, those who wish to advance the positive case of Kosova, and who are in need of consultation and professional advice."
The headlights of Dr. Nushi shine on in front. The road is made easier for us to travel.