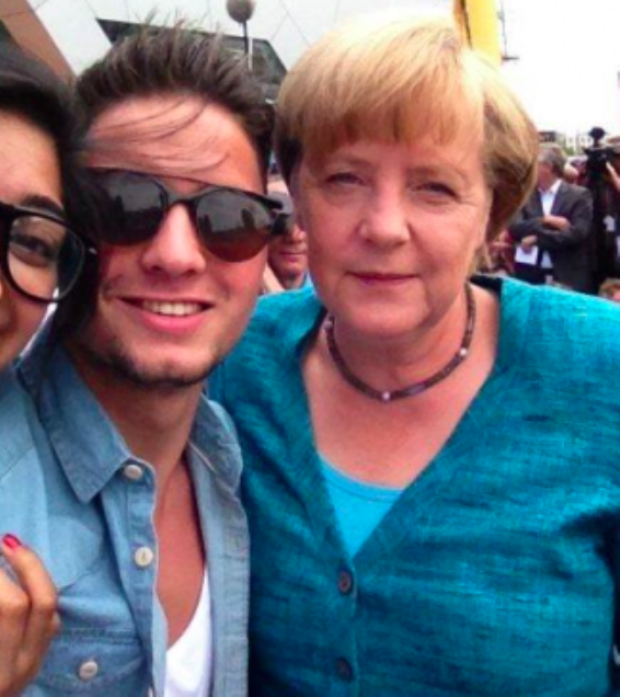 A Kosovar's Selfie with Angela Merkel becomes the photo of the year in Switzerland's "20 Minutes"
By: Valon Xoxa January 24, 2014
Rafael Lluka might have not been a public figure, however, a picture he took alongside the German Prime Minister Mrs. Merkel might have changed his social status, only if for a day.
While the picture has definitely sparked a great deal of attention, the story behind it is as coincidental and simple as it can be. Originally from Switzerland, Lluka happened to be attending a school excursion in Berlin, where the German Bundestag is located. Mr Lluka had decided to curiously examine the presence of many reporters thus "accidentally" finding himself at the right moment and the right place where Mrs. Merkel had happened to be getting out of her vehicle thus coming into contact with Mr. Lluka. As a youngster and opportunist, Rafael had politely asked Mr. Merkel for a "selfie" with his phone, thus snapping the "Most voted picture for 2013" in Switzerlands "20 Minutes".
The annual selection process is done in such a manner where readers of the "20 Minutes" are encouraged to post a picture and then urge other readers to vote.This year, there have been 12 competitors, within 5000 voters, Rafael managed to gain the vote from 1250 thus making his picture the best of 2013.
The original article was posted at ALbinfo.ch. Click here to read the original article.