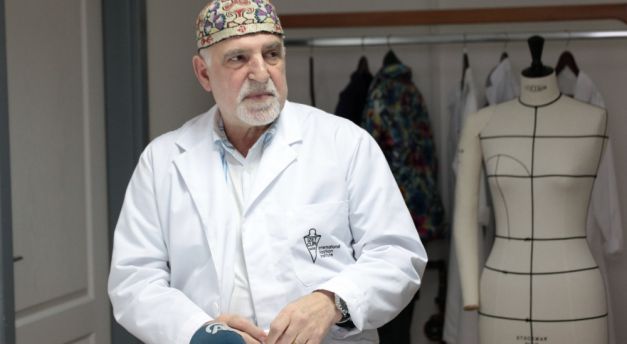 A Kosovar In The World Of Fashion
By: Valon Xoxa December 16, 2014
Izet Curri is a popular name in the stylist and fashion industry. Born in the small village of Drubnjak in Kosovo, his quest to world fame, is filled with hardships with twists and turns. In fact there mere choice of becoming a fashion designer had been imposed. The Skopje earthquake had left Mr. Curri's mother a single parent with 8 children to look after. In order to make ends meet, Izet and his siblings were engaged in learning crafts. By chance, Mr. Izet Curri chose to work with a tailor. From Skopje based Cale – Jakimovski Strahil to Branko Angelkovsk, Mr. Izet Curri has  been designing and working with fabric and scissors since 1948.
His decision to move to Paris in 1970 would quickly prove fruitful , for following a short peniless roam, Izet manages to find a job in the workshop of a subcontractor to the world known Hermes brand. From there on between the years of 1973 to 1997, famous creators such as Thierry Mugler,Azzedine Alaia and Jean Paul Gaultier would invite him to dezign,hold positions such as technical director of garment factories and even work as a modeller.
Between 2000 and 2005, Izet Curi worked with designers and renowned fashion houses such as Anne Valerie Hash, Pascal Humbert  , Chloe , or Frédéric Molénac. Then with Jean-Claude Jitrois , Chanel or Christian Lacroix from 2006 to 2007.
Mr.Curri currently runs his own design studio and a fashion school, Design Factory in Pristina in Kosovo and regularly works with schools such as MFI or ESMOD in the Master Model off-Arts (creative pattern).
For more please check out the recent interview Mr.Curi was invited to;