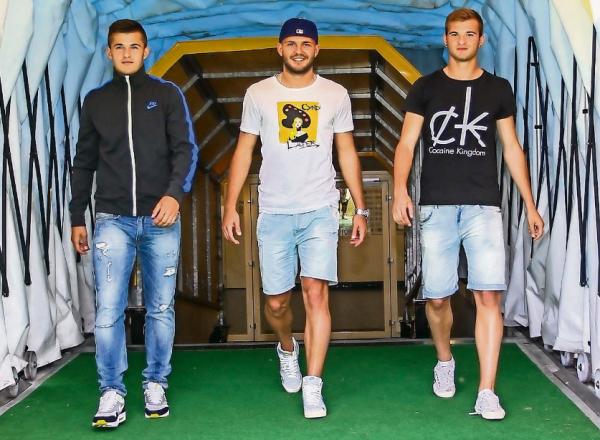 A Family of Football Superstars: The Rise of the Ajeti Brothers
By: Liza Gashi July 21, 2014
"Ajeti 1 throws the ball to Ajeti 2, who passes to Ajeti 3, and…GOOAAAL!" This is the dream that the three Ajeti football superstars hope to realize someday soon.
However, this may pose a slight problem for the FC Basel jersey makers: How to decide on the surnames displayed on the jerseys of Arlind (19) and twins Alban and Adonis (16) to tell them apart?
"How do you find my proposal: Ajeti I, Ajeti II, and Ajeti III?" laughs Arlind. As the oldest of the brothers, only Arlind has so far carried his surname on his first-team squad jersey. According to an article written by Schweiz am Sonntag, Alban and Adonis, who play for both the U18 and U21 teams, have not yet experienced this.
Their time has almost come. Recently, the twins received an invitation from none other than FC Barcelona. They would train at the famous football school La Masia, where Messi, Xavi, and Iniesta also trained. To support them, the whole family would move to Spain. However, at the moment they have chosen to stay at Basel, Swiss.
This is a reflection on how close the Ajeti family is. Every night, they gather in the kitchen and share the day's experiences. The boys love holidays with their parents, and even Arlind can hardly imagine moving out of the family's apartment. "I would not know what I would do alone in an apartment," he says.
As the eldest among them, Arlind feels responsible for his two younger brothers. The twins acknowledge his role and, as Adonis put it, "Arlind is our idol. He has shown us how to achieve professionalism."
Two years ago, then-trainer of FC Basel Thorsten Fink included Arlind in the first-team, putting a lot of trust on his shoulders. Fink's successor, Vogel, took most of this trust away. A turnaround occurred when the team's latest trainer, Murat Yakin, engaged him differently. Just last week, Yakin involved Arlind from the beginning in their match against FC Aarau, replacing the suspended Dragovica. Yakin had high praise for Arlind, following the 3:1 victory.
Though his contract with FC Basel expires in a year, he hopes to get an extension. The twins, Adonis and Albion, signed their first professional contracts in April, but they have not yet encountered professional difficulties that their brother has. They are excited to play on the First Team alongside their brother, where ""Ajeti 1 throws the ball to Ajeti 2, who passes to Ajeti 3, and…GOOAAAL!" is just around the corner.
The original article was posted at Albinfo  Click here to read the original article.