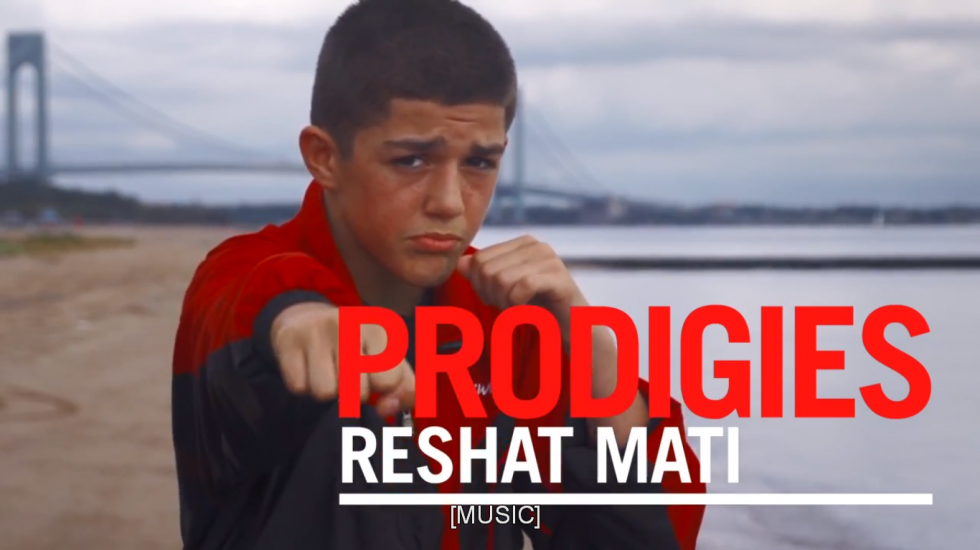 A boxing prodigy: Reshat Mati – the Albanian bear' has arleady won 22 championship belts
By: Albana Rama January 29, 2013
Reshat "The Albanian bear" Mati, takes you in to the world of marital art and boxing as he aims to one day become a professional boxer and MMA-fighter. Despite Reshat's young age, he's already ranked as number one in boxing and number one in the world in kickboxing. The prodigy is also undefetaded in both MMA and Muay Thai, and got his 20 championships belts shining on the wall.
Reshat is a 13 year old boy, who goes to school every day and does his homeswork like most kids. But what seperates him from everyone else is not only his titles but his hard training, Reshat trains five times a week and goes from one training to another. With his dad, Adrian Mati on his side supporting him all the way, they both believe their hard work will pay off. Adrian Mati tells THNKR, "As a fighter you want to be a champion and Reshat was a fighter from the beginning. I didn't make him a fighter, he was born a fighter."
The passion for boxing runs in the Mati family. Adrian Mati talks about how he learnd how to box from his father that once was a boxer and wants now to pass it on and teach his son Reshat Mati. But it's not as easy as it sounds, he tells THNKR " […] but it's a lot of frustration coaching your own kid, you expect way more than any other kid".
Reshat has only kind words for his father when talking to THNKR. He says " […] but also cares about me, he's always taking care of me, you know". Reshat's boxing coach, Aureliano Sosa talks about Reshat getting a little nervous before a fight. But it's not about losing or doing bad, it's about Reshat knowing his father will be there and he does not want to look bad infront of him. Reshat describes it like " When I see my father and he goes 'stop you going to hit too much, put your hands up', that's the kind of things that I get scared of. Because I wanna prove to my father that I'm good enough to box".
Adrian Mati is worried like every parent would be, for his son to get hurt. At the same time he's also worried about the opponent, because in the end of the day they are just kids. Adrian continues with saying that it might be a hard sport, but a person should consider it as any sport where people get hurt and accidents happen. Adrian point out that he will never let his son get hurt, he will stop the fight. Reshat on the other hand does not seem as afraid, he tells THNKR that all he needs to do is keep his hands up and protect himself and therefore don't worries about any brain trauma.
Aureliano Sosa, Reshat's boxing coach tells THNKR how it can be hard to get Reshat a fight, the 13year old prodigy is so good that no one wants to fight him. Reshat is looking forward to turn 15 – 16 so he can advance to the Olympic trials and then make it to the US team his father says in the interview. He continues with describing the Olympics as the top championship for an amateur fighter. Reshat will then aim to become a professional boxer and MMA-fighter and continue his hard work till he reaches his goal.
In the interview with THNKR, Reshat says "If I keep working hard you know, in my heart and my head I know that I going to be on top"
Watch the whole interview with Reshat Mati