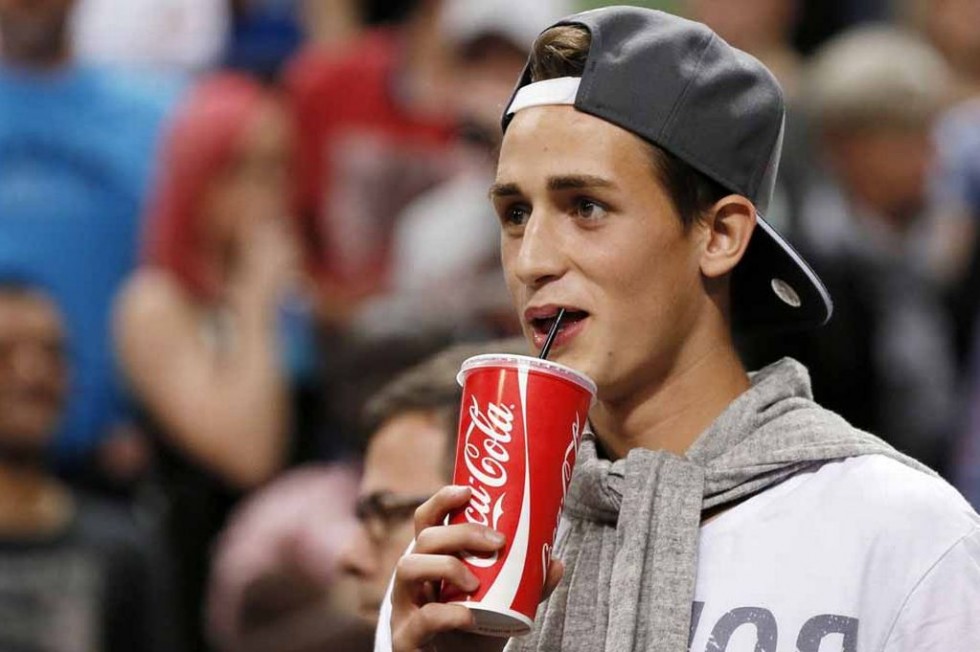 18 year old wonderkid Adnan Januzaj is making history
By: Kosovo Diaspora July 20, 2014
How many eighteen year old Albanians have scored 2 goals in the Premier League? Only one. Adnan Januzaj is his name.
The Adnan Januzaj tale begins in Belgium on a very cold February day 18 years ago. Born to Kosovo-Albanian parents, young Januzaj was raised in this small country that was not considered one of the bigger football nations. At an early age he started playing football in Belgium, in Anderlecht's youth teams. He spent a couple of years there and at the age of 16, Sir Alex Ferguson, Manchester United's coach at the time, decided to bring in Januzaj to Manchester United. The Januzaj family packed their bags and moved to England, not knowing that their son would one day make history.
'The young Beckham,' as some called him, played in United's Youth Academy and found his way up to the U21 team very quickly. Two years after Januzaj signed with United, Sir Alex slowly started introducing him to the senior team. Right before his debut, the United supporters  elected him as Reserve Player of the Year. On the 19th of May 2013, Januzaj made his first appearance against West Bromwich, but was left on the bench throughout the entire game. Afterward, Sir Alex retired, leaving Januzaj in the hands of a new coach; but would he give Januzaj a chance?
David Moyes picked up right where Sir Alex left off. He showed the same interest in Januzaj and included him in the list that would participate in the pre-season tour in Asia. Januzaj scored his debut goal in the tour and one month later won the Community Shield  with United. Last month, Januzaj finally debuted in the Premier League at the age of 18. United was playing against Crystal Palace on their home turf Old Trafford, and Januzaj was substituted in after 66 minutes. He was very eager to score and wanted to help his team win but was not able to do anything notable. Even though he was only 18 you could tell this kid had a bright future ahead of him. One of my friends,  a diehard United supporter noted, "The last time I saw anyone play this way in their debut game was when Cristiano Ronaldo did his debut in our red shirt."
And we didn't even have to wait that long to see him score his first goal, which he did at the start of his first game, I might add. On October 5, 2013, Januzaj and his 10 teammates walked into the Stadium of Light in Sunderland in front of more than 45,000 spectators. And once the referee blew his whistle, the game was on. Januzaj once again showed the same sign of eagerness as he did during his debut. Enchanting us with every pass, whenever he fired a shot he left the crowds gasping for air. Sunderland choked us by scoring the first goal only five minutes into the game and despite Januzaj's several shots on the goal post, United remained without a goal when the teams went out for the half time break.
Fifteen minutes later, the teams were back in play and only three minutes into the second half Januzaj was awarded a yellow card for a dive in the penalty box. But the United supporters would soon forgive him. In the 55th minute, after a pass from teammate Evra, everything exploded as Januzaj managed to put the ball into the net . The 18 year old Albanian had scored not only the equaling goal but also his debut goal in the Premier League. Right after his goal I accidentally knocked over my bag of chips, launching them into the air and all over my carpet. I was shouting for utter joy and high-fiving everyone in the room. Look at him, Adnan Januzaj, scoring in the Premier League, the kid is only 18!
A brief moment later, as I finished picking up every chip that was scattered about the room, the bag flew across the room once again. "Adnan Januzaj with a second strike!" I could hear the English commentator shouting, and what a goal it was! Sunderland's goalkeeper had no chance of preventing Januzaj's volley from finding the net once again. Januzaj was mobbed by his teammates as the world went crazy. Eighteen year old Januzaj had taken back the lead by himself, becoming the youngest player to ever score twice in one game. "An Albanian making history–wow!" I thought to myself as I slowly sat down on my coach again. Januzaj was later substituted with only a quarter left of the game and as neither of the teams were able to score again, the game ended with a 2-1 win for United, who traveled back to Manchester with 3 points in their luggage, thanks to Adnan Januzaj.
Coach David Moyes could sleep well that night, all the millions of United supporters could sleep well that night and Adnan Januzaj, I bet he fell asleep with a biggest grin on his face. October 5, 2013 was only the day when Adnan Januzaj presented himself to the football world. I can't wait to see what this wonder kid will do next.