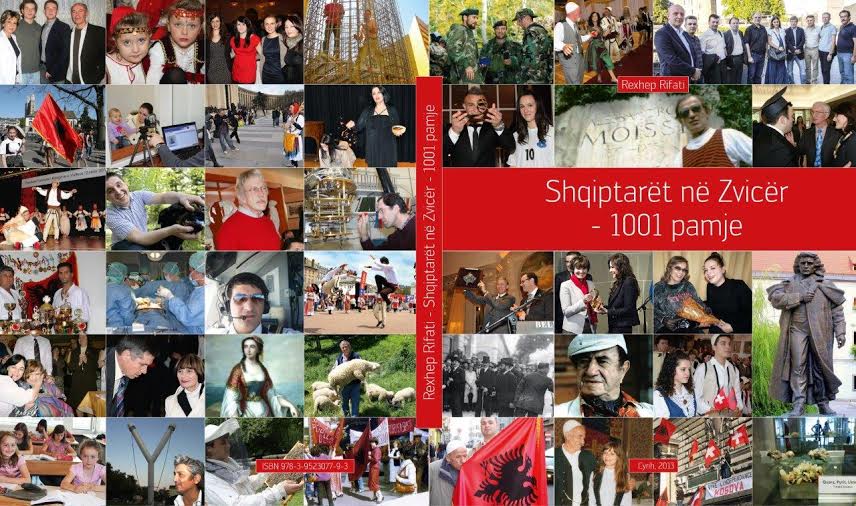 1001 sights of the Albanian diaspora in Switzerland
By: Anton Dauti June 10, 2014
Albanian journalist Rexhep Rifati from Ferizaj recently published the monographic work "1001 sights" or "1001 pamje." Rifati was born in Komogllavë near Ferizaj in 1942 and worked for the Albanian journal "Rilindja" from Prishtina for 25 years. Rilindja was the biggest Albanian journal in former Yugoslavia. Rifati graduated at the University of Prishtina in 1973 with a degree in Albanian language and literature. He is now living for 25 years in Switzerland and actively contributing to the life of the Albanian diaspora there. 
In an interview with Rexhep Rifati, we found out a little about his life. He told us that he immigrated to Switzerland in 1995 and got political refugee status in only 2 months. "The reason for my emigration from Kosovo was the unstopping pressure and threats from the Serbian authorities. They wanted to stop me from publishing articles in which I denounced the injustices perpetrated against the Albanian people of Kosovo. It is precisely because of this life-threatening violence that I left Kosovo. There is even a concrete example of this which was documented by Transparency international in 1992" says Rifati.
Rifati finished high school in Ferizaj in 1966 and graduated at the faculty of philosophy in Prishtina 7 years later. From the very beginning he was passionate about journalism and started working for the daily journal "Rilindja" from 1967 until 1995. He adds: "I was mainly active in my hometown of Ferizaj where I also took part in cultural activities. I founded the assembly for music and dance "Kastriotet" and the solidarity found for scholarships."
Rifati committed only to writing once he left for Switzerland, not wanting to be a part of any political group. He thus committed himself to the cultural activities organized by the cultural clubs "Me Agim Ramadanin" and "Feniks."
When asked about his new publication he says: "Even though it can be perceived as an album with its 1200 pictures and the title "1001 sights", it is indeed a monograph.Every picture has a description and a quarter of the book is with text which makes it even look like an encyclopaedia according to some critics. It is a chronic of the Albanians in Switzerland. Throughout the pictures I do not want to analyse something special but only illustrate the everyday life of the hardworking Albanians here in Switzerland.
I shot those pictures during the different cultural, political and sport activities. I also visited the Albanians in their everyday life, either in Albanian schools, universities where Albanians studied, in clubs or at their work. The monograph shows only a small piece of my photo-collection which has thousands of pictures. It was a particular pleasure to immortalize the moments of the cultural activities which are sometimes even bigger then in Kosovo. I also enjoyed taking pictures of the Albanian students. I had the chance to take some pictures from the Albanian singer Vaçe Zela from her first participation at the assembly of music and dance in 1984 until she passed."
Rifati says that he believes that the Diaspora has a crucial role, especially due to his huge economic contribution for Kosovo. He adds that he sees its financial function being, fortunately, overshadowed by the successes of the younger generations. He laments that the new state doesn't pay enough attention to them and their talents. Rifati adds: "Despite the big accomplishments of the Diaspora the main weaknesses remain in the economic and political area. We still need to become a more modern society with a better organization and therefore renounce to split into political groups. I appreciate the love the Diaspora got for our homeland but would like to see more parents educating their children in every aspect and also in teaching the Albanian language.  The Albanian diaspora in Switzerland has its qualities and its weaknesses just like the others. It is easier for them to communicate because of the fact that Switzerland is a small country. The Albanians in Switzerland have several associations, two cultural institutes that publish scientific and cultural texts in several languages, not to mention the numerous private businesses in the gastronomic, economic or industrial sector. We currently have more than ten medicine specialist with their own private ordinances."
In terms of how the Albanian Diaspora is perceived in Switzerland Rifati says: "A large majority of our diaspora is respected for its work and efforts to be part of the Swiss society. Currently we have more than 40 .000 Albanians who have the Swiss nationality but the main difficulty to show this image is the lack of communication with the Swiss people and media. Very often the media shows the few excesses of some individuals and that way damages the image of the majority, except when it comes to the football players who are the heart of the Helvetic football team. More need to be done in order to improve our image and therefore we should start promoting our successes instead of gossiping about the bad stories."
If you want to order the "1001 sights" monograph please contact the following e-mail address: [email protected]